Older Children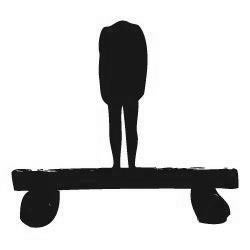 Subject: Stage
Activity: Put on a performance without using any words or sounds
Materials: None
Vocabulary: Figure, stage, symbolism, performance
Introduction:
Magdalena Abakanowicz is from Poland. She was raised and lived there throughout World War II. This piece is a bronze casting of a headless figure. Abakanowicz makes many sculptures like this one. Sometimes there is just one figure, and sometimes there are many figures in a large group. This figure is standing before us on a platform that is like a stage. When someone is on a stage, they are usually there to tell the audience something, either through speaking or through their performance.
Questions:
The figure stands on a stage of sorts. What might it be telling us?
Why do you think the artist chose to make this figure without a head?
Can you think of some things that the head and face are symbolic of?
Activity:
Designate an area that will be your stage. Put on a show for a friend or family. Try to act out feelings and experiences using only your body, but not your voice. Most movies and performances we see incorporate a lot of sound and music to set the mood. How can you set the mood and communicate a message without relying on sound? Can you use all the areas of your stage?
BTW:
Replicas of the Zulu ceremonial spoon that inspired Leigh's sculpture can be bought by tourists visiting the region of Southern Africa (notably the KwaZulu-Natal province). The spoon is so popular that miniature plastic replicas can also be purchased online.
Look Again:
Leigh celebrates Black women with her work. Sentinel IV is a larger-than-life celebration of Black women who protect their families and culture.
Does the sculpture seem grand to you? Look back at your drawings. Do they celebrate certain people? Why is it important to celebrate them?
Vocabulary:
Figure —A human shape
Stage —A platform used for performances
Symbolism —Representing an idea or concept through images
Performance —The act of presenting something (like a play or music) to an audience for entertainment
Artists with Related Works:
Magdalena Abakanowicz, Figure on a Trunk, 2000
Marc Quinn, Spiral of the Galaxy, 2013
Michael Ray Charles, (Forever Free) Ideas, Languages and Conversations, 2015