Girl Day 2020: Making monumental sculptures out of everyday office supplies 
By Marissa Dunagan
Girl Day at UT Austin is an annual event hosted each February by the Cockrell School of Engineering as part of Engineers' Week. The university-wide event invites elementary and middle school girls to participate in STEM-based activities to learn about engineering and technology. The tradition that began in 2001 with 91 participants expanded in 2020 to reach 8,000 young girls.   
Each year, Landmarks collaborates with the Women in Engineering Program to engage Girl Day visitors through works from the collection that feature engineering challenges. As Landmarks' education intern this spring, I had the opportunity to develop new activities for Girl Day inspired by two Landmarks sculptures: Nancy Rubins' Monochrome for Austin—which uses recycled canoes, bound together by steel cables; and Mark di Suvero's Clock Knot— which features steel I-beams that are masterfully bolted together.
The activities focused on engineering exercises that mimic the gravity-defying effect of each sculpture. For example, Monochrome for Austin utilizes a cantilever system. A cantilever can be turned and balanced in any direction, so long as there is an anchor point and the force on each arm is equivalent. UT Girl Day participants created their own cantilevered structures out of office supplies. Once they achieved a cantilever, they were encouraged to invent their own rules and limitations based on what they wanted to build, the same way an engineer designs a project based on the parameters of the space they are presented with.  
To try the challenge at home, here's what you'll need:  
·       coffee stir sticks, popsicle sticks, or plastic cutlery 
·       binder clips 
·       a space with dirt 
1.     Attach the sticks together with a binder clip so that they form a wide angle. 
2.     Stick this into your dirt or sand so that one end is standing out. 
3.     Begin attaching binder clips to the top of the structure. How many can you attach without it falling down?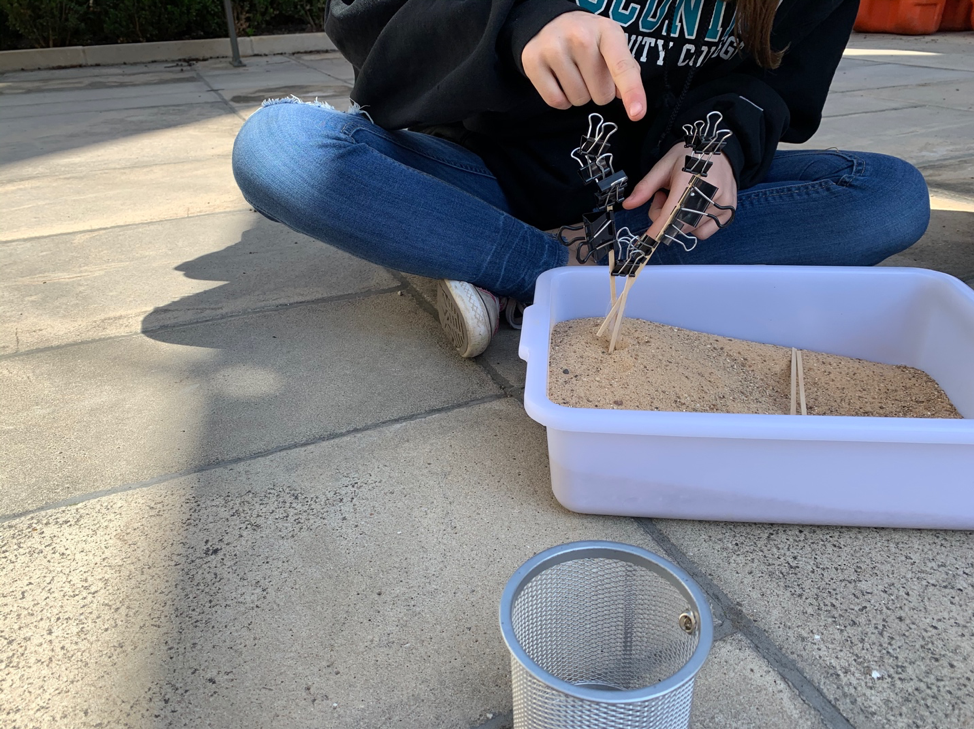 Mark di Suvero used industrial steel I-beams to create Clock Knot. Although it appears to defy gravity, it was engineered with a sturdy base to withstand weather and time. Its outstretched arm incorporates a cantilever system similar to Monochrome for Austin and is a testament to di Suvero's skills as an artist and engineer. Our Girl Day challenge was to create a small version of the sculpture. 
To try this at home, here's what you'll need: 
·       Coffee stir sticks or popsicle sticks 
·       Tape 
1.     Attach three or four sticks together with tape at one end, so they create an 'A' shape and can stand up on their own.
2.     Once those sticks can stand up, take one additional stick and balance it on top of your structure. Can the sculpture stay together and upright? 
For more fun, at-home art activities, please visit our Learning at Home with Landmarks activity guides.