As students return to campus eager to start a new year, many will join clubs and groups to meet new people and build specialized skills. Landmarks has two distinct volunteer programs that help keep our program running. Landmarks Docents are trained to lead visitors on tours of the collection. They learn about important trends in modern and contemporary art, how to engage with their audience, and public speaking skills. Landmarks Preservation Guild (LPG) helps maintain the works of art in the collection. They work with a conservator, report on the condition of an assigned work of art, and learn basic conservation skills.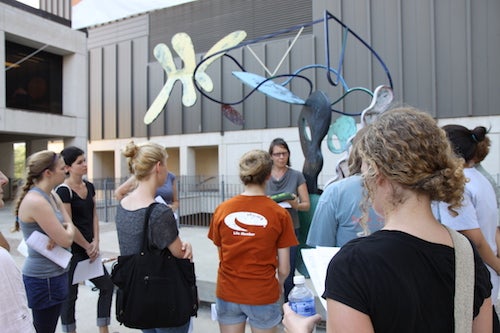 LPG members learn about conservation methods with conservator Catherine Williams at Peter Reginato's Kingfish.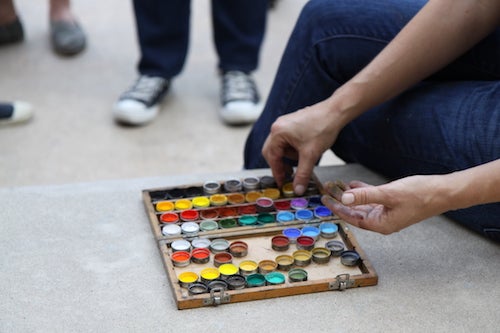 Powered pigments used to repair chipped paint on Peter Reginato's Kingfish
Landmarks caught up with Sarah Reiff Conell (B.A. Art History, 2013), former LPG member and current PhD student at the University of Pittsburgh, to hear how her time as a Landmarks volunteer helped her on her career path.
When were you involved with LPG and what made you join?
I joined in 2012, after a friend and fellow Art History student, Hayley Woodward, introduced me to the organization. It sounded like a wonderful opportunity to engage with works of art, which is not always possible as an undergraduate.
Where are you now?
I finished my Masters in Art History at the University of Pittsburgh this past April and am currently continuing as a PhD student. This summer I stayed busy with a research trip to Austria, an internship in the Old Master Prints and Drawings Department at the National Gallery of Art in Washington DC, and a weeklong seminar on the Renaissance Book at the California Rare Book School.
Explain the experience of working directly with works of art.
During our first meeting of the year, a group briefing was held about the general practices and protocols. Then, we were each assigned one or two works that were to be in our careI was assigned Untitled (Seven Mountains) by Ursula von Rydingsvard. I completed regular condition reports, monitored the state of the work, and performed "cleanings." With gloves donned, I dusted the base. It was important to avoid wiping work itself, because the sculpture is made of rough wood and graphite. Since dusting the art would be too invasive, my job was to carefully tweeze off any hair or dust-bunnies without touching the sculpture. It may sound platitudinous, but I came to embrace the mantra that sometimes less really is more. Each visit took some time, which allowed me to develop familiarity with an object I may have not otherwise even encountered.
Explain the experience of working directly with conservators and other LPG members.
The volunteer interns would occasionally meet as a group with the conservator to help with larger projects. One such memorable occasion was when we applied a patina to replacement pennies for the Donald Lipski sculpture, The West. Over time, some of the coins adhered to the work were detached and missing. First, we sorted pennies for an appropriate mint date range in order to prepare only those coins that would fit original work. Then, we submerged the coins in a solution prepared by the conservator. This was a formative experience, because it allowed involvement in practical aspects of preservation without having to obtain extensive technical expertise necessary for those pursuing in a future in conservation.
What skills did you learn that have helped you after graduation?
The practice of completing reports and the level of reflection they engendered has informed the way I understand collections. This knowledge introduced me to a conversation that has been relevant in a variety of institutions. 
The close examination required while in LPG is akin to the process necessary to better understand any object, from large-scale sculptures to small works on paper. Enjoying that time and discovering how long it takes to really "see" something was certainly an important aspect of my professional development. 
What did you like most about being a part of the LPG?
I valued the level of responsibility entrusted to me and the conversations around the preservation of works in a variety of locations and materials. Though I had interned in a museum before, LPG was my first opportunity to work directly with objects. I had a chance to spend hours with a work of art I otherwise would not have known so intimately. I also became aware of a number of techniques used to care for works through the relationships built with other students. All of these aspects are grounded in the fact that LPG was the experience that initiated me into the object-centered art world.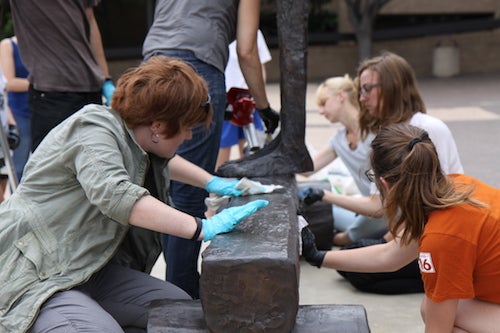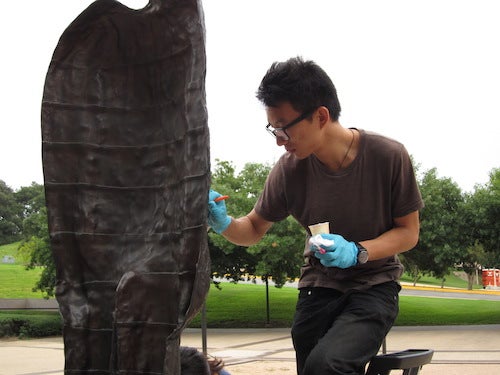 LPG members clean and add a protective wax coating to Magdalena Abakanowicz's Figure on a Truck.
Interested in pursuing a job in the arts? These volunteer opportunities are a great way to get your feet wet, build your resume, and learn new skills! We are accepting applications for both Landmarks Docents and Landmarks Preservation Guild now! Learn more and enjoy frozen treats from Moojo at our Meet at Greet on Tuesday, 5 September at Donald Lipski's The West; or visit our Volunteer page.
Applications are due Friday, 8 September, 2017.
Email Catherine Zinser for more information.