Looking at and talking about art has become popular in non-art related disciplines like medical sciences, engineering, and mathematics. These types of tours are a favorite at Landmarks because they result in new perspectives and insights about the collection.
This fall, Dr. Michael Domjan and his undergraduate Music and Psychology course visited Landmarks to lead a slow-looking exercise. The students were familiar with analyzing music but were not as comfortable talking about public art. Luckily, many of the terms used to discuss music can be used in the visual arts: harmony, rhythm, movement, texture, balance, emphasis. During the tour, brave members of the group gave their first impressions of the work of art. Then the group spent 3-5 minutes quietly looking at the installation and its surrounding environment. The following discussion was full of thoughtful observations; insights that could only be discovered after close and quiet contemplation. The goal is for students to take this slow-looking technique into other areas of study and train their minds to think critically and creatively.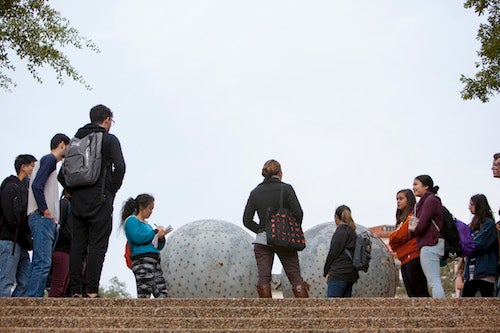 Students at Donald Lipski's The West                                                                        photo by Christina Murrey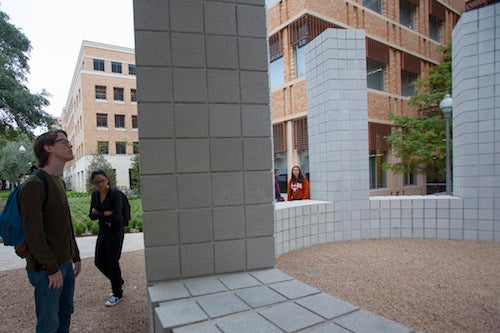 Students at Sol LeWitt's Circle with Towers                                                                photo by Christina Murrey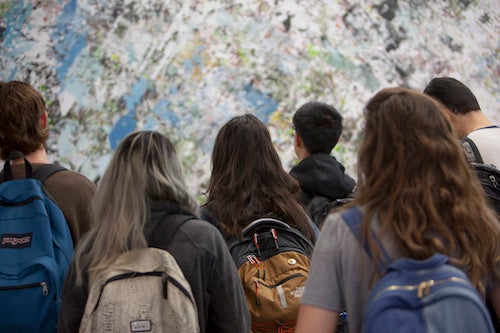 Students at Casey Reas' A Mathematical Theory of Communication                    photo by Christina Murrey
Dr. Domjan assigned a reflection paper after the class tour. They were given no constraints and could approach the theme in any way they chose. The papers were creative and inspired---here are some of the standouts!
Sophie Mesler was struck by the art and architecture in and around The Bill and Melinda Gates Computer Science Complex and Dell Computer Science Hall (GDC). She believes this environment "creates an atmosphere that inspires creativity and productivity."
Alissa Lornklang seems to be a true minimalist at heart. She discusses trends in minimalist art, architecture, and poetry. Her analysis of Sol LeWitt's Circle with Towers concludes, "the structure is so simple, yet the idea of endless, diverse interpretations is what makes it complex."
Andrea Ocañas finds parallels in the evolution of conceptual art from Sol LeWitt to Casey Reas and the digital revolution. "The contrast between the ways of the high-speed, new-media era and the less hectic, pre-digitized days are evident in the Landmarks public art projects exhibited at the computer science building on campus."
Lastly, Benjamin Jones, a seasoned art admirer learned a valuable (and exciting) lesson: a person can spend a lifetime learning about and discovering the wonders of art. "While I went into this trip feeling like I had a solid grasp on how to evaluate and look at art, I quickly understood that I had a lot more to learn." You're not alone Benjamin!
The Landmarks staff is continually learning about the collection from artists and students who ask questions that encourage us to think about the collection in new ways. We look forward to gaining new insights in 2018!