As the Fall 2019 Education Intern at Landmarks, I developed a series of thematic tours that encourage students to think critically about themselves and the world around them. During this process, I discovered new connections that made the art feel meaningful. I was given responsibilities and opportunities beyond what I imagined an intern would be allocated and was encouraged to pursue projects that aligned with my professional goals.
I had the opportunity to pilot my ideas on the theme of perspectives during a guided tour in November. The works visited were: Magdalena Abakanowicz, Figure on a Trunk, 2000; Tony Smith, Amaryllis, 1965; Donald Lipski, The West, 1987; and Nancy Rubins, Monochrome for Austin, 2015. Each of these pieces invites a different style of interpretation and I focused the tour around three types of perspective: empathetic, spatial conceptualization, and the artist's process.
In order to develop my tour I began by looking at each work from my own perspective. For instance, at Abakanowicz's Figure on a Trunk, I was moved by the hollowness of the body and the toes hanging over the ledge of the sculpture. I could imagine slipping into the shell and inhabiting this figure, but at the same time felt that the hollow body and absence of head was a dehumanized figure. My conflicting perspectives helped me to tie the sculpture to a broader theme of horror. When viewing horrific imagery, particularly documentary photographs and videos, there is a limit to how much gruesome realism people can handle before we detach or dissociate from the experience. This figure teetering on that edge seems to be asking  us to step into our discomfort. One might see the precarious platform as a stage or a witness stand. The sculpture is placed directly outside Texas Performing Arts' Bass Concert Hall which houses the largest theatrical stage on campus. Figure on a Trunk sets the tone for theatre goers to carefully consider the implications of the performances that they are about to see inside the theatre.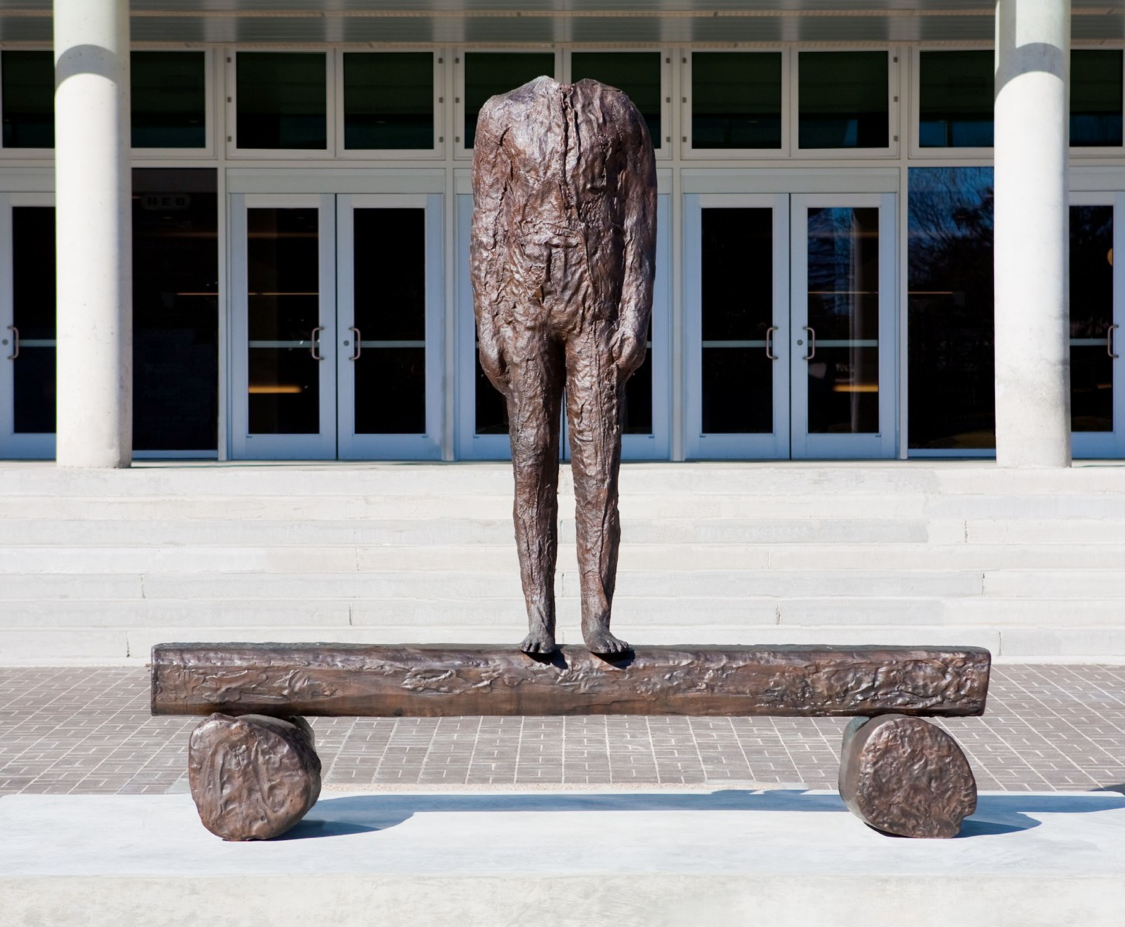 Nearby, Amaryllis, a sleek minimalist work by Tony Smith, sets a different tone for the Butler School of Music. Rather than evoking an emotional state, the work asks viewers to consider its clean lines and repeating triangulations to understand abstract concepts such as time, emotions, math, and decision-making. Imagining these ideas as objects that we can observe and manipulate from different angles helps us understand and relate to them. Smith's sculpture also tells a story of resilience in the face of adversity. After an automobile accident in 1961 left him severely injured, Smith was unable to make work in the way he used to. Instead of abandoning art, constricting his scope, or shrinking his scale, Smith's works became larger and more complex. The removal of the artist's literal hands from the constructing process inducted Smith into minimalism, which highlights the relationships between the work and viewer's body, as well as the space around it. The work's title, Amaryllis, reminds us that there is more than one way to memorialize nature.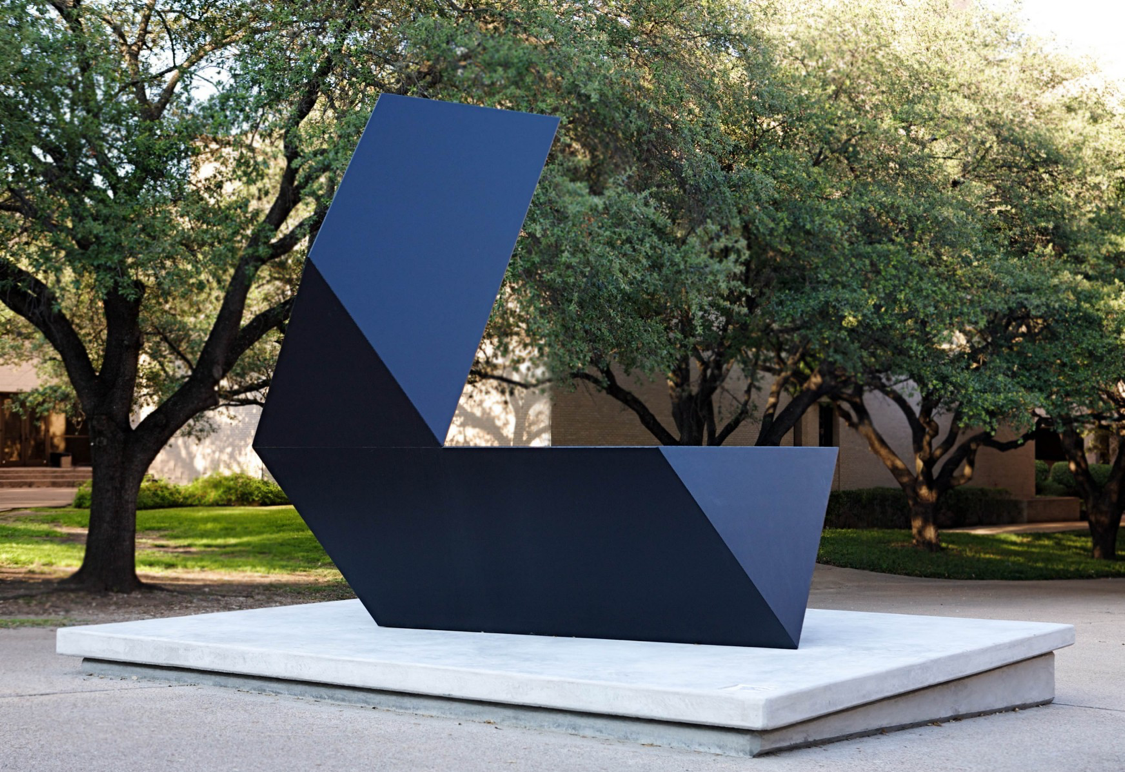 Donald Lipski's The West also brings together seemingly disparate objects, like the connection between the cold black material of Smith's work and the bright yellow flower of its namesake. Lipski invites us to derive meaning from the sculpture with no explanation. The opacity of the work is the most exciting thing about the sculpture; there is no right or wrong answer, allowing viewers a sense of freedom that opens up to the imagination. The West is a fun sculpture to attempt to think about from different perspectives. When artists work with found objects, their selection can be informed by a variety of characteristics, such as formal qualities like color, shape and texture, relationship to the overall composition and symbolic value. Similarly, considering these characteristics offers viewers a window into understanding the artist's intention.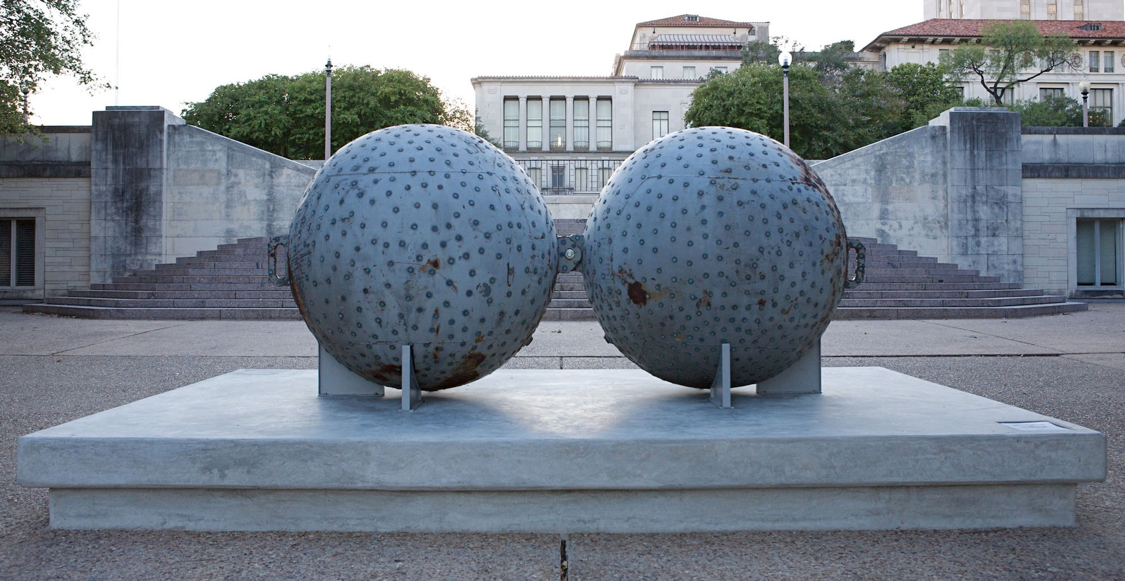 Another work from the collection that often puzzles viewers is Nancy Rubins' Monochrome for Austin. Approaching the highly energetic sculpture, it is tempting to form an opinion based on our personal experiences or associations with the sculpture's primary material: aluminum canoes suspended high in the air over a busy pedestrian thoroughfare. The work speaks to potential, adaptability, transmutability, regeneration and unstoppable energy, ideas that can also be seen in its chaotic form. Rubins' sculpture helps us think about different vehicles for communicating meaning and the multiplicity of meanings held in a single object.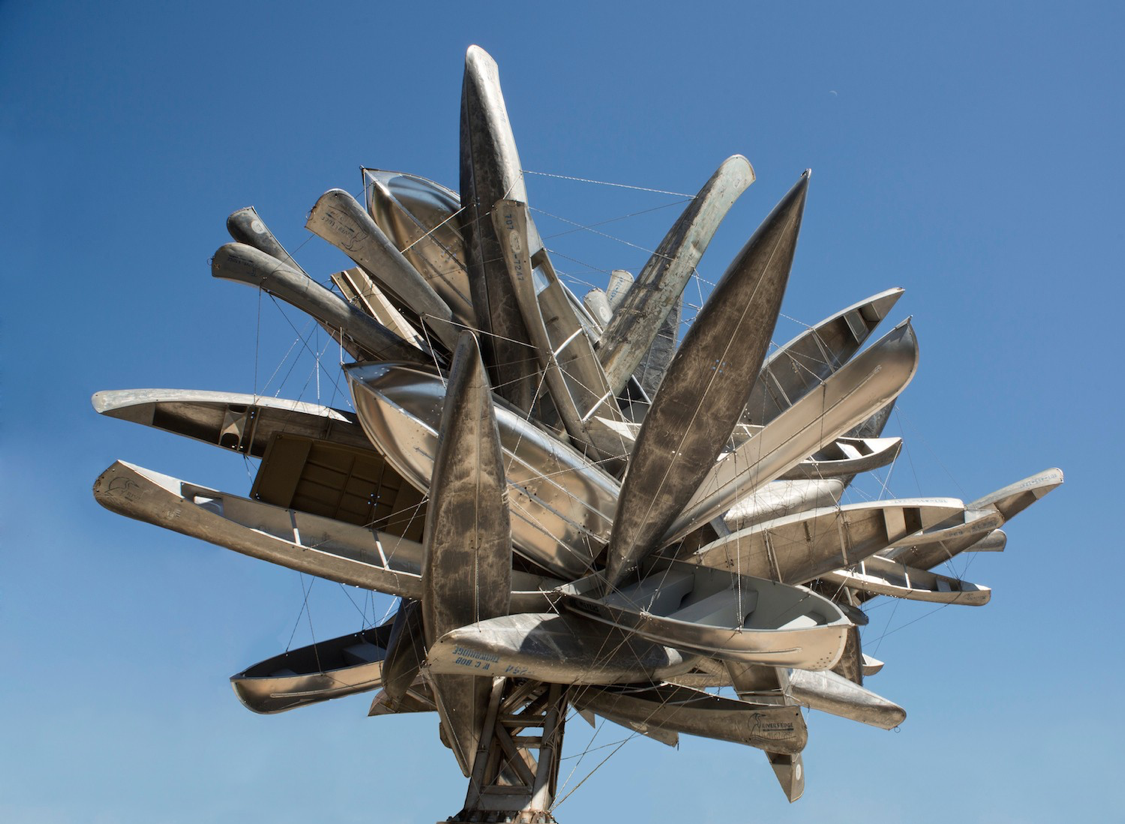 As an educator, I learned to explore multiple perspectives through my internship. Before my time at Landmarks, I took the public art on campus for granted. As a studio art major, I felt like it primarily existed for my own appreciation and never considered how the collection offers learning opportunities for other students. Once I began working more intimately with the collection through independent research, docent trainings, tour observation and close-looking, I discovered resonances I'd never considered before. Moving forward I am excited to see how art education can enrich the lives of people from any background, not just those with a studio practice.
- Myfawny Shepherd, 2019 Education Intern
Internship funding provided by the Emily Hall Tremaine Foundation (EHTF)