Landmarks Preservation Guild (LPG) is a commited group of student volunteers that contributes time and energy to maintain the works in the public art collection. Throughout the semester, Silver Lining Art Conservation host workshops for members to learn new techniques and approaches to preserving each piece. Because this group has hands-on experience with the work, there are aspects about the pieces that they get to know better than anyone! Thanks to LPG members and our partners at Silver Lining Art Conservation our collection will remain beautiful for future generations to enjoy! 
Communications and marketing intern, Holland Chaney, sat down with LPG member Kristin Garrison to learn about her experience in the program.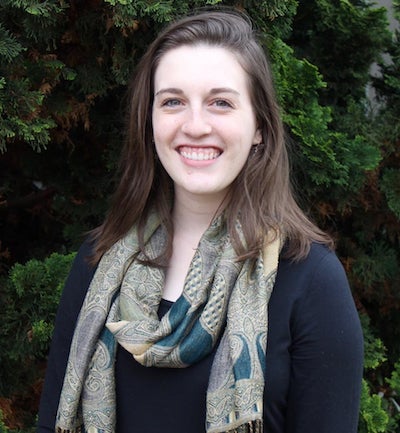 Kristin Garrison
Holland Chaney: How did you find out about the Landmarks Preservation Guild and what inspired you to join?
Kristin Garrison: This is my first year in the program and first year in graduate school at UT. I first heard about Landmarks when I was applying for the Art Education graduate program. I saw the works when I was looking on campus and found it interesting that UT has a big a collection of artworks that is out in the open and available to the public. During my orientation, someone came to speak and informed me of the program which interested me and I made the leap and joined.  
HC: There are many cultural institutions on campus, why choose to work with Landmarks? 
KG: The reason I joined the preservation guild was because I have worked in museum settings before, but we weren't trained in how the works were taken care of, just more about the works themselves. I was interested in joining more for my own personal knowledge in how the works were being taken care of. I work a lot with children and they always have questions, especially how works are taken care of, so I wanted to be able to answer those questions. I love that I am able to volunteer and get to be close to the art, when usually in a museum setting you are not supposed to be too close to a work of art.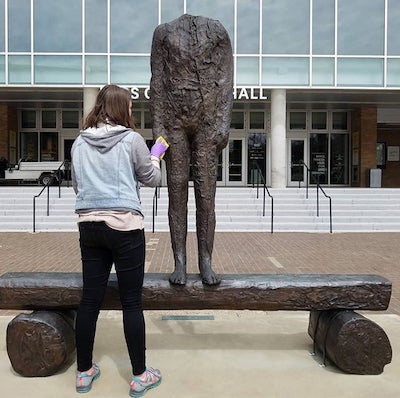 Kristin Garrison dusting Magdalena Abakanowicz, Figure on a Trunk, 2000. Photo by Jen Reel
HC: What field are you studying/working in and how do you hope Landmarks will enhance these experiences?
KG: Having a little bit of background of conservation, information about the piece, the history, and curatorship is appealing to me in order to be able to be a more well-rounded educator.  
HC: What is your favorite work of art in the collection and why? 
KG: My favorite piece is Seven Mountains in the top floor of the Bass Concert Hall. It is fascinating to think about the original material and where the sculpture is now. It has been painted with graphite so there are very specific ways to care for it and it was fascinating to learn about them.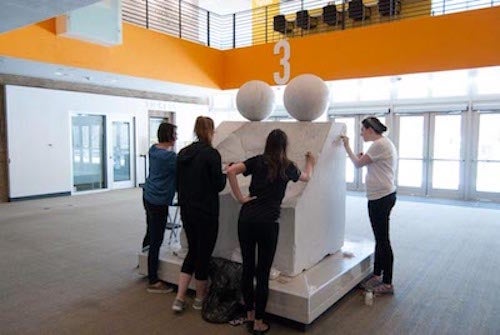 Catherine Williams, Lindsay Hamm, Fenna Engelke, Kristin Garrison cleaning Louise Bourgeois, Eyes, 1982.
HC: If you had to tell a friend about LPG, what would you say? 
KG: I would tell people about the learning opportunity Landmarks provides. You are able to do something where you are not only learning about the pieces and conservation but that you are also able to put that into action. It is impactful that students are able to do this job for Landmarks and it gives volunteers more skills and more interaction and experience with the art. 
HC: What are you excited about for the future in the program?
KG:​ I am excited to work side by side with a professional conservator and learn about the specific piece I am working on and be able to have a conversation about it.  
Want to learn more about the Landmarks Preservation Guild or interested in becoming a member?
Find more information on our volunteer page.