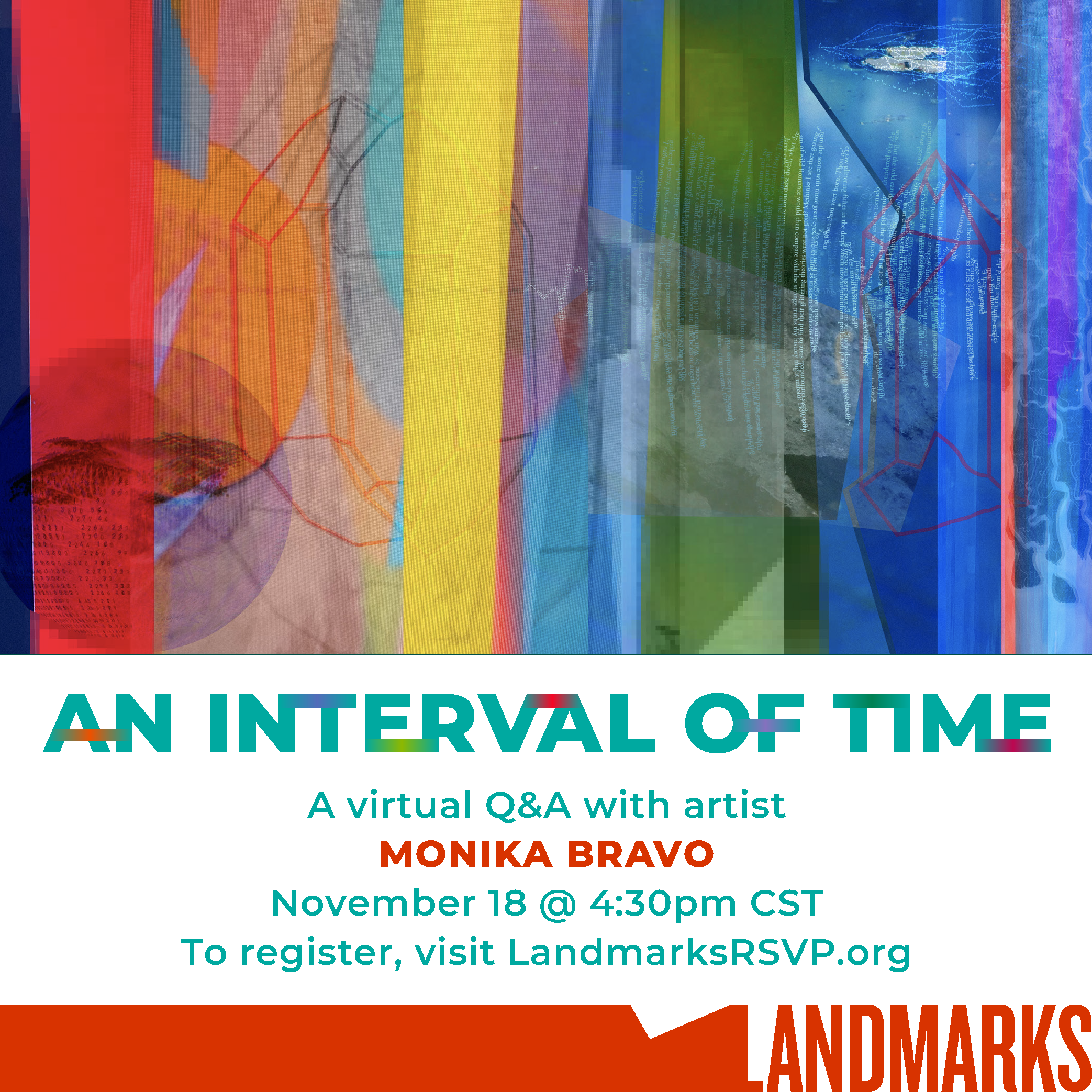 Landmarks, the public art program of The University of Texas at Austin hosts a virtual opening to celebrate "An Interval of Time", a digital animation by artist Monika Bravo on November 18th from 4:30-5:30 pm CST. Join us online for a discussion between Bravo, Landmarks director Andrée Bober, Jackson School of Geosciences Dean Claudia Mora, and curatorial contributor Alexandra Mendez. 
ABOUT MONIKA BRAVO
Monika Bravo (b. 1964 in Bogota, Colombia) is a multi-disciplinary artist who currently resides in Miami. Her work ranges from moving images and interactive animations to photo-based objects and immersive sculptural environments. Bravo has exhibited her work internationally including at the Rubin Museum of Art; 56th Venice Biennale representing the Vatican City-State at the Pavilion of the Holy See; The New Museum in New York; Museo Nacional Centro de Arte Reina Sofía; Museo de Arte del Banco de la Republica; and the Museo de Arte Moderno Bogota. She was recently awarded the Civitella Ranieri Visual Arts Fellowship, a prestigious residency program for international writers, composers and visual artists. 
ABOUT ALEXANDRA MENDEZ
Alexandra Mendez an MA candidate in Latin American Art History and Visual Studies. Her research focuses on Cuban photography in the 1990s during the time known as the "Special Period in Times of Peace" looking at the work of Juan Carlos Alom in dialogue with the changing landscape of the city of Havana as the city changed to accommodate an international touristic market. She is also completing a research project in collaboration with the Museo de Arte Contemporaneo de Puerto Rico on artistic production in the island as a response to the political and environmental catastrophe following Hurricane Maria. She has interned with Landmarks, the Blanton Museum of Art and won a Fulbright Scholarship in 2017 to teach in Asturias, Spain.
Event Date:
Wednesday, 18 November 2020 -