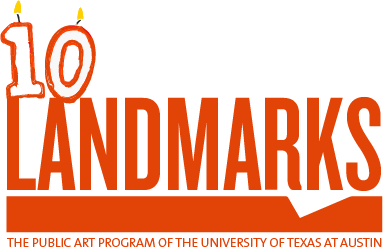 Landmarks is celebrating 10 years of public art!
What's a birthday without cake?! Help us blow out the candles, pick up a party favor, and see how Landmarks makes campus a little sweeter. Grab a free slice of cake everyday this week at a different Landmarks project. You can find us everyday at 11am until the cake runs out:
Monday, 24 September: Mark di Suvero's Clock Knot
Tuesday, 25 September: Nancy Rubins' Monochrome for Austin
Wednesday, 26 September: Sol LeWitt's Circle with Towers
Thursday, 27 September: Donald Lipski's The West
Friday, 28 September: Joel Perlman's Square Tilt
Event Date:
24 - 28 September 11:00 a.m.
Location:
Visit a new project each day!