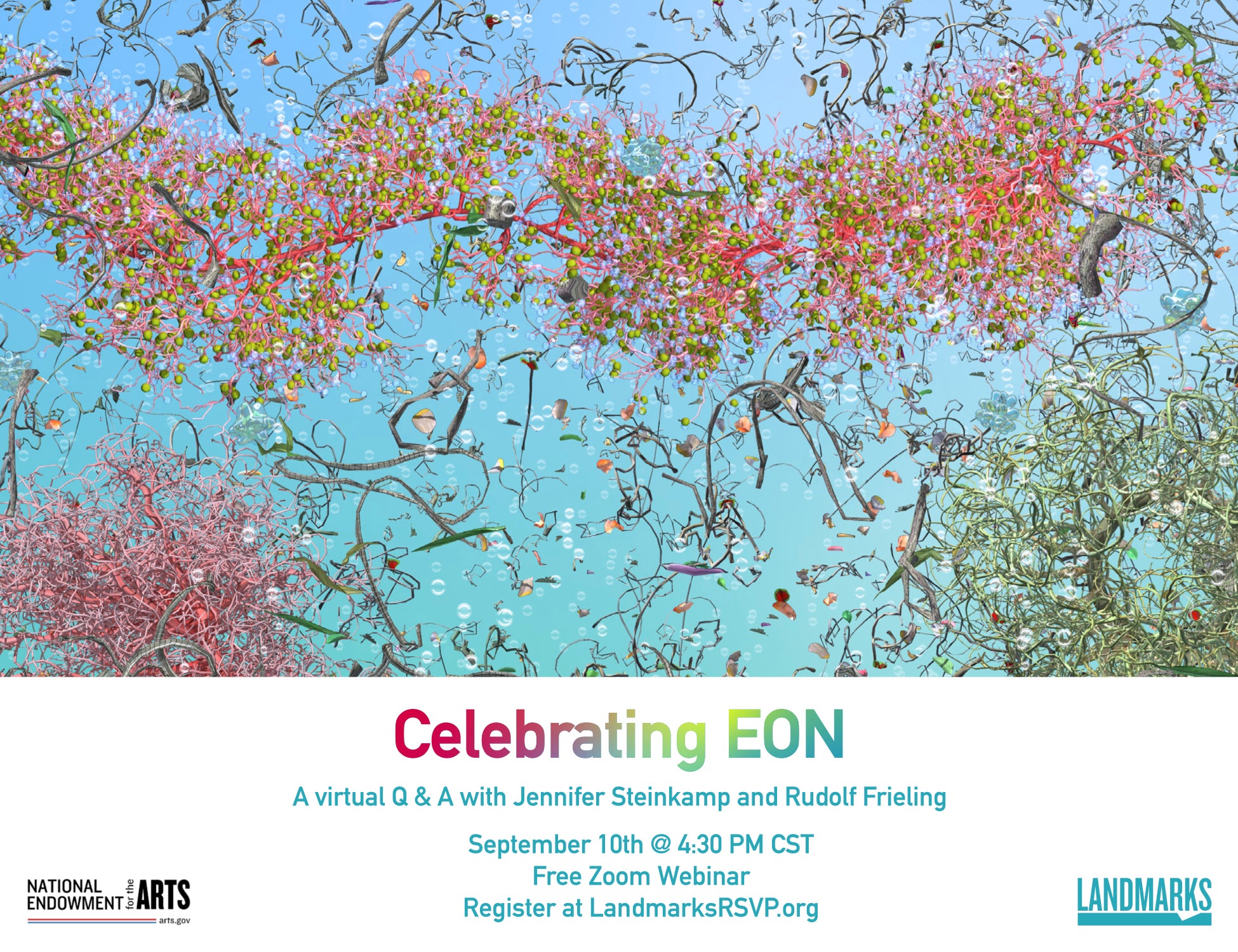 Landmarks, the public art program of The University of Texas at Austin, celebrates the opening of its newest commission, "EON," a large-scale video installation by artist Jennifer Steinkamp. Please join us via Zoom on Thursday, September 10 at 4:30 PM CST for a discussion between Steinkamp and curatorial contributor Rudolf Frieling, with opening remarks from Landmarks director Andrée Bober and College of Natural Sciences Dean Paul M. Goldbart.

To register, go to LandmarksRSVP.org
About Jennifer Steinkamp:
Jennifer Steinkamp (USA, b. 1958, in Denver, Colorado) is an artist known for her video and new media installations that explore architectural space, motion, and perception. Steinkamp has held solo exhibitions at Stanford University, Stanford (2020); Lehmann Maupin, Hong Kong (2019); Talley Dunn, Dallas (2019); Espacio Fundación Telefónica, Madrid (2018); Fosun Foundation, Shanghai (2017); Museum of Contemporary Art, San Diego (2016), among others. She received the B-I-G Award from The Liberta Awards! In 2017, the William Penn Foundation fellowship in 2017, and Public Art Network's Year in Review award in 2014. Her public art is included in the collections of the Norton Museum of Art, West Palm Beach; McNay Art Museum, San Antonio; Brunnier Art Museum, Ames; Health Sciences at The University of Arizona, Tucson amongst others. Steinkamp currently resides and works in Los Angeles, California.

About Rudolf Frieling:
Rudolf Frieling is Curator of Media Arts at the San Francisco Museum of Modern Art (SFMOMA) where he co-curated among others the recent retrospectives Nam June Paik (2019-2021), Suzanne Lacy: We Are Here (2019) and Bruce Conner: It's All True (2016-2017) as well as the survey on contemporary artists working with sound Soundtracks (2017). He was the curator of Film as Place (both 2016), Christian Marclay: The Clock (2013), Stage Presence: Theatricality in Art and Media (2012), Descriptive Acts (2012) and monographic exhibitions with among others Richard Mosse, John Akomfrah, William Kentridge, Lynn Hershman Leeson, Sharon Lockhart, David Claerbout, Jim Campbell, Bill Fontana. He has curated SFMOMA's influential survey exhibition The Art of Participation: 1950 to Now (2008) and oversaw the SFMOMA presentation of William Kentridge: Five Themes (2009). During SFMOMA's temporary closure between 2013 and 2016, he curated collection shows at the University of Michigan Museum of Art, Ann Arbor, and at Borusan Contemporary, Istanbul.
Event Date:
Thursday, 10 September 2020 -