Younger Children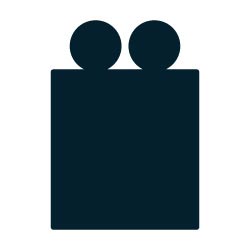 Subject: Shape
Activity: Create a collage that combines different shapes
Materials: Colored paper, scissors, glue
Vocabulary: Artist, form, outline, sculpture, shape
Introduction:
Point out to your child that he or she can follow the outline of a figure by running a finger around the edges. Explain that shape is what we call the outline of a form. Circles, squares, and triangles are very common shapes. Anything that has a form, or a body, also has a shape. We can see shapes in everything around us.
Artists use shapes to create different forms. This artist made a sculpture that uses two different kinds of shapes.
Questions:
What shapes are in this sculpture?
Which shape did the artist use twice?
Is the shape on the bottom a common shape, or is it different? Why?
Observations:
Note that by putting two circles together, the artist created eyes. Encourage your child to create recognizable objects by combining different shapes. 
Activity:
Cut basic shapes out of colored paper, such as circles, ovals, rectangles, squares, stars, and triangles. Ask your child to select shapes, identify them, and glue them onto a piece of paper. Encourage him or her to make something recognizable by placing the shapes together.
Vocabulary:
Artist - someone who makes things, such as paintings and sculptures
Form - the shape of something, as opposed to its surface
Outline - a line drawn around the outside edge of something
Sculpture - a work of art that has height, width, and depth
Shape - an outline of a body, like a circle or square
Artists with Related Works:
Juan Hamilton, Curve and Shadow, No. 2, 1983
Donald Lipski, The West, 1987
Beverly Pepper, Harmonious Triad, 1982–1983
Joel Perlman, Square Tilt, 1983