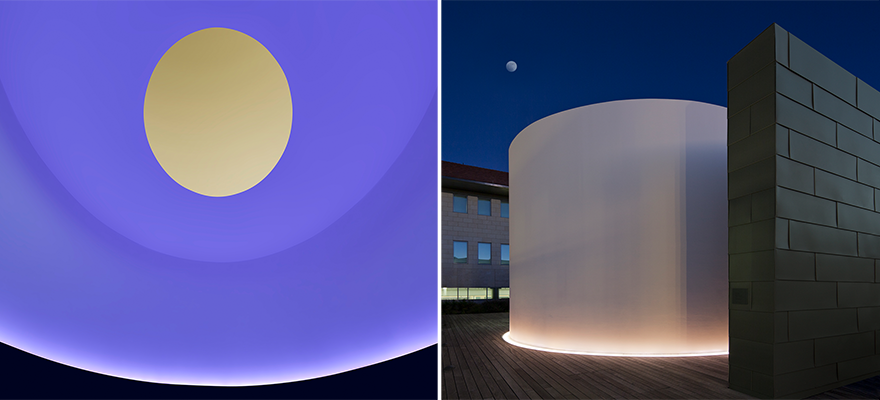 photos by Paul Bardagjy
Landmarks artist James Turrell discusses his involvement in the filming of Stanley Kubrick's 2001: A Space Odyssey
In the early days of his career, Landmarks artist James Turrell worked on the set of Stanley Kubrick's 2001: A Space Odyssey — a little-known fact that Turrell first spoke publicly about in PRI's Studio 360 "American Icons" radio series. The audio of this interview is included in the second half of PRI's two-part radio program covering 2001: A Space Odyssey.
In the mid-1960s, Turrell was working as a pilot in southern California as he was beginning to experiment with light as medium in his art. He was hired to help Kubrick with visual effects on the film set and was, in his own words, a "grunt," running errands and helping out with odd jobs. In the interview, Turrell describes being starstruck by Kubrick, and notes with pride that Kubrick knew him by name, despite his small involvement in the film.
Turrell also describes his ongoing Roden Crater project. This naked-eye observatory within a volcanic crater in northern Arizona has been under construction since 1979 and is currently slated to open to the public in 2025. For this project, Turrell describes his interest in "trying to make people feel that we're on a planet now […] we're already in space." Turrell adds, "To think we're alone in this universe is the height of arrogance."
Along with a discussion of James Turrell's involvement in 2001: A Space Odyssey, the 52-minute radio segment from PRI discusses the future of artificial intelligence, connections between modern technology and that of Kubrick's film, the legacy 2001: A Space Odyssey has left for other space movies, and different possible interpretations of the film.
PRI's "American Icons" radio series takes the listener inside some of America's most influential works of art, including The Great Gatsby, Native Son, and I Love Lucy. Listen to the two-part 2001: A Space Odyssey program and discover more stories on the "American Icons" webpage.
Landmarks commissioned The Color Inside, a Skyspace by James Turrell, in 2013. The installation is located on the rooftop of the Student Activity Center (SAC) building, at 2201 Speedway. This summer, the Skyspace is open to the public Monday through Friday from 7am to 9:30pm. Learn more and visit The Color Inside website to secure your free sunset light sequence reservation.