Landmarks invited Ann Hamilton's former studio director to reveal how, in five to eight minute increments, O N E E V E R Y O N E came to be.
Nicole Monahan worked with Ann Hamilton Studio for many years, first as archivist, then project manager, and finally studio director. She is now an independent artist, graduate advisor at Columbus College of Art & Design, and media designer for McGraw-Hill Education. 
Twenty-one thousand photographs. Five hundred and thirty participants. Twelve sites around Austin. But the most important number was the amount of time—on average between five and eight minutes—when a generous exchange of trust occurred. To begin: a warm handshake, a welcome by name, a gentle tending to each word, a deep seeing and curiosity about each person, a recognition. Then: a yes, a willingness to be seen while not seeing, a careful listening to the voice from the membrane's other side, a vulnerability to share one's image in ways not yet solidified. This is the heart of O N E E V E R Y O N E. Everything Ann Hamilton did was aimed at creating the right conditions for an intimate exchange with each person.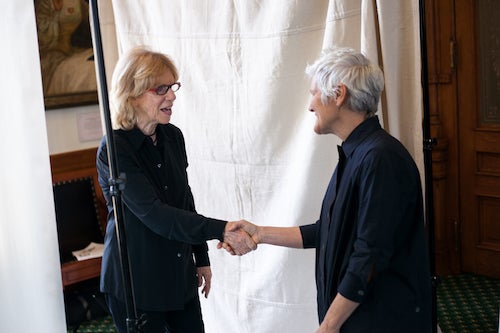 photo by Lawrence Peart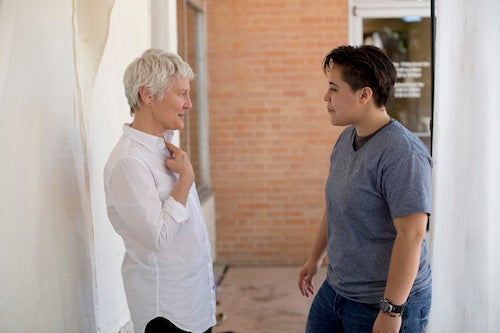 photo by Christina Murrey
The process welcomed, informed, and honored each participant from start to finish. Scouting visits, logistical maps, photo release forms, multi-lingual handouts and signage, medical protocols, participant recruiting, translators, equipment rental, numerous phone calls and emails with staff at each site, and thousands of other details prepared us well for most circumstances. Finding rooms that had the right natural light proved tricky, and for several locations, we photographed outside. A windy day at Westminster kept us on our feet, as our backdrop became a sail, and every available hand was needed to keep lights and equipment from blowing away. The crew weathered heat and humidity on several shoots, but it was the wind that won that day, forcing us to relocate inside.
When a potential participant approached the shoot, we welcomed them, shared what was happening, and invited them to participate. If yes, they filled out paperwork and their name was written on a number. These numbers were given to Ann, who would call out the person's name.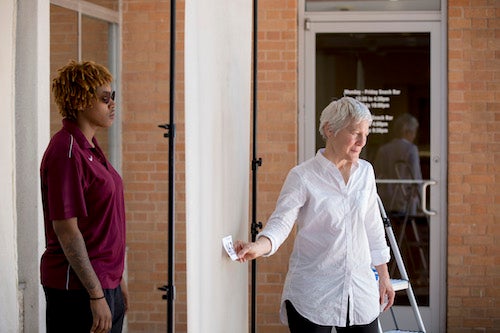 photo by Christina Murrey
Then the exchange would begin.
Ann greeted and talked quietly with each person, offering her characteristic focused and warm attention. She went with them behind the membrane to demonstrate how to hold one's body against it. Often the person would mirror her actions to get used to the sensation. Ann then walked to the other side of the membrane, held the number up for the first photograph, and began describing in detail how to move. Jessica, the studio photographer, intuitively clicked the shutter with each movement, freeing Ann to be fully immersed in her connection with the subject. Watching Ann was quite beautiful as she subtly moved her body with instructions like "right arm," "left elbow," "look up to the left," etc. She proclaimed "lovely" or "very handsome," sighed or laughed with delight, and echoed what those of us on the sighted side of the membrane were feeling. After each shoot completed, Adam—our beloved, departed project assistant—offered the participant an iPad to immediately look at the photos. He or she starred their favorites, and the studio used these choices in the final image selection process.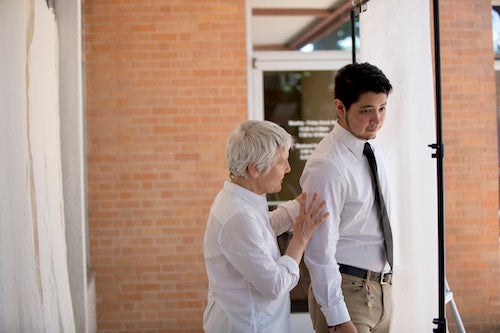 photo by Christina Murrey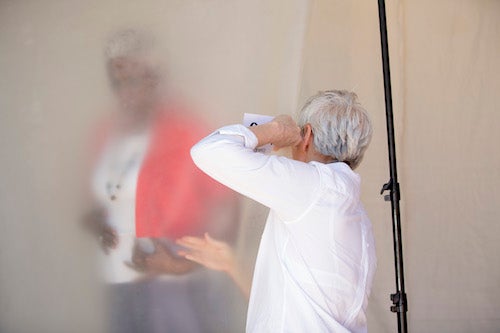 photo by Christina Murrey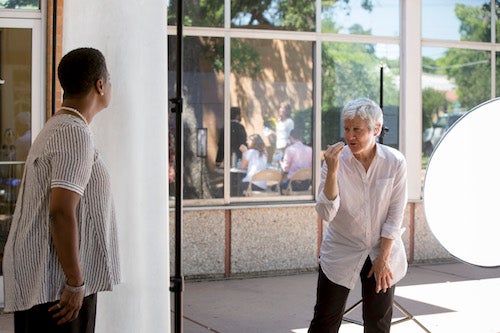 photo by Christina Murrey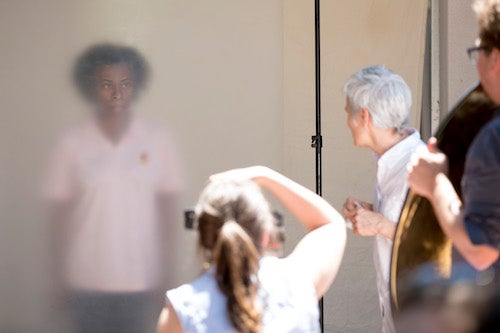 photo by Christina Murrey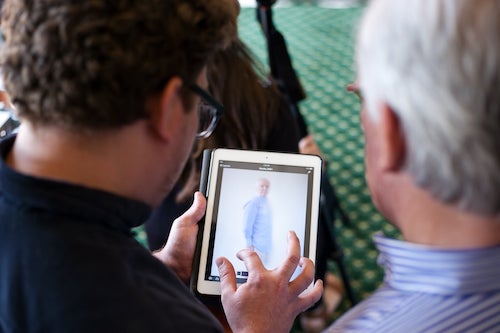 photo by Lawrence Peart
Seeing and being seen. Listening as connection. Sight becoming language becoming movement. Trust, willingness, vulnerability, generosity. Five to eight minutes at a time: this is O N E E V E R Y O N E. It was an honor to help make it happen.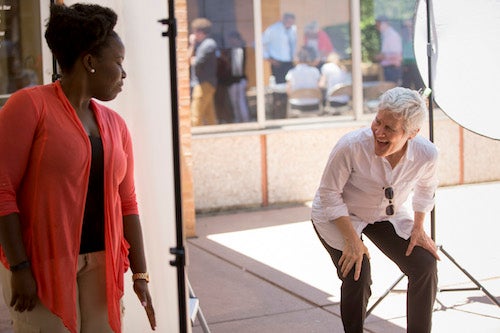 photo by Christina Murrey