Michael Ray Charles was born in Lafayette, Louisiana in 1967. He studied advertising design and illustration and earned a BFA in 1989 from McNeese State University in Lake Charles, Louisiana. Upon graduation, he continued his education at The University of Houston School of Art where he received an MFA in 1993. Later that year, Charles began teaching at The University of Texas' College of Fine Arts where he remained until 2014.
Much of Charles' work explores systemic and societal racism against Africans and African Americans, conceptualized through painting, sculpture, and mixed media installations. Discussing his artistic practice, he remarked that "conceptual and representational applications of power throughout visual culture's past and present have been among [his] most significant triggers of creative inspiration." Although he is well known for paintings that combat racist stereotypes through the appropriation of oppressive images, Charles transformed these ideas into three-dimension with his 2015 Landmarks commission, (Forever Free) Ideas, Languages and Conversations.
When creating his sculpture for Landmarks, Charles reflected on the progress and achievements of minority scholars and the historic struggles they have overcome on their paths to higher education. In the renovated Gordon-White Building, the atrium, where (Forever Free) is sited, connects the exterior of a 1950s academic space to a contemporary interior that is home to minority studies including the African and African Diaspora Studies Department, John L. Warfield Center for African and African American Studies, Institute for Urban Policy Research and Analysis, Center for Mexican American Studies, and the Department of Mexican American and Latina/o Studies. For Charles, this was an ideal location.  
The sculpture is complex and symbolic, consisting of 26 star-shaped clusters of wooden crutches suspended from the ceiling. The stars resemble the "Black Star" logo of the African and African Diaspora Department, highlighting the growth and progress of Africans and African Americans in the 20th century. Furthermore, each cluster of crutches corresponds with a letter of the alphabet, signifying the importance of language and literature in African American activism and culture. Most notably are the medical crutches used by Charles, transformed beyond their practical use, ". . . underscoring the African and African Diaspora Studies Department's resourcefulness and highlighting the ability of its faculty to 'make-do' or 'make better'" (Shaw). Ultimately, Charles wanted the powerful sculpture to "activate the atrium and instill thoughts of institutional progress and cultural transformation among the students, faculty, and community members who come together within [the] dynamic space" (Shaw). The result is a poignant visual representation of the transition from the inherited past to the promising and free future.
(Forever Free) Ideas, Languages and Conversations is located on UT Campus, in the atrium of the Gordon-White Building (GWB).
--
Essay by Gwendolyn DuBois Shaw on the Landmarks website entry for Michael Ray Charles:
https://landmarks.utexas.edu/artwork/forever-free-ideas-languages-and-conversations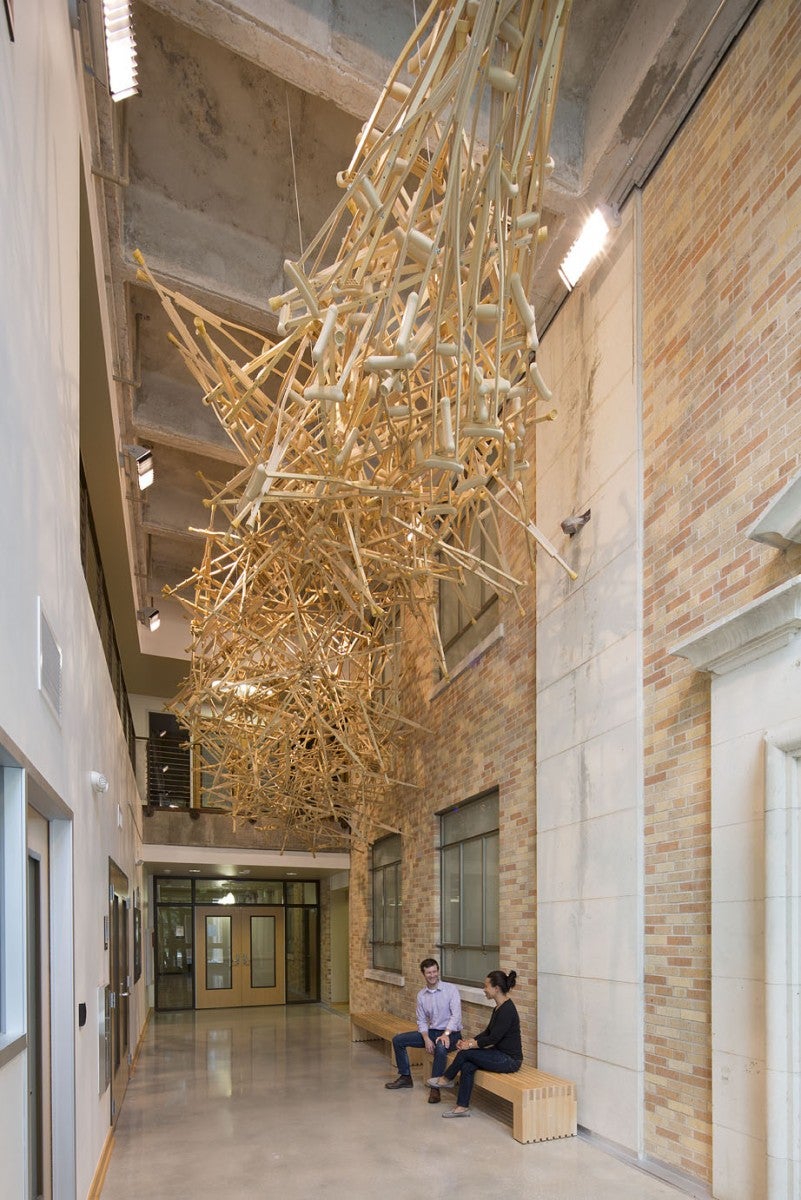 Michael Ray Charles, detail of (Forever Free) Ideas, Languages and Conversation, 2015. Photo by Paul Bardagjy