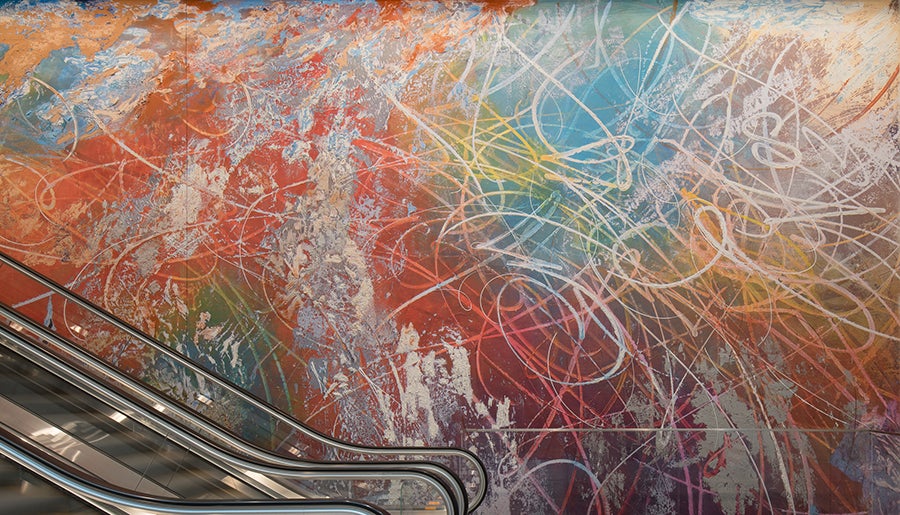 Photo by Paul Baradgjy
Today, Landmarks commission Amistad América by artist José Parlá was selected by Americans for the Arts' Public Art Network (PAN) Year in Review as one of the best public art projects completed in 2018. This award is the fifth Landmarks commission to be recognized as a Year in Review selection.
Located in The University of Texas at Austin's Robert B. Rowling Hall, Amistad América is artist José Parlá's most ambitious project to date, displaying unprecedented scale and metaphoric complexity. The mural contains Parlá's typical layering techniques including variegated collage, dense pigments and calligraphic strokes. It renders the city of Austin through the artist's eyes while situating it within the larger geopolitics of the Americas.
The mural's location references Austin's connections to a larger Latinx and African American cultural history. "By acknowledging these geographical and lingual origins, my painting references the rich and turbulent cultural history of the Americas," said Parlá.
"Amistad América represents the fifth Landmarks commission to receive the Public Art Network's Year in Review award," said Andrée Bober, founding director of Landmarks. "We are honored to have this project recognized among the country's most compelling public art and we salute José Parlá's unique artistic vision. His mural captures the spirit of Texas and the Americas on a monumental scale, and it has been widely embraced by our community."
The PAN Year in Review was founded in 2000 as the only national program recognizing public art. PAN focuses on bringing awareness and appreciations to public art and the communities served by public art, as well as working to be an educational tool for administrators, artists, and public arts professionals.
Landmarks was previously recognized by PAN's Year in Review for Ann Hamilton's O N E E V E R Y O N E (2018), James Turrell's The Color Inside (2014), Casey Reas's A Mathematical Theory of Communication (2014), and Ben Rubin's And That's The Way It Is (2013). The PAN Year in Review searchable database offers a place to browse these works alongside more examples of the best public art in the country.