Landmarks is pleased to announce the acquisition of a second work of art by artist Nancy Rubins. Drawing (2007) is located in the Norman Hackerman Building, adjacent to her massive assemblage of aluminum canoes and small boats Monochrome for Austin.
"With their complementary explorations of material and process, and of dramatic challenges to gravity and stasis, the two works by Nancy Rubins now in the Landmarks collection make a powerful joint expression of the vitality of abstraction" said art critic Nancy Princenthal.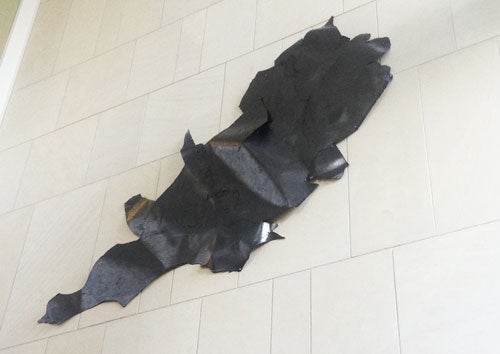 Nancy Rubins' Drawing (2007) installed in the Norman Hackerman Building's west lobby. Photo by Gilles Heno-Coe
Initiated in 1974, the ongoing series of drawings bridges the customarily flat medium with sculpture. The alternating layers of graphite and the pressure from Rubins' heavy mark-making creases and curls the paper, seemingly transforming thick pieces of rag paper into gnarled sheets of glistening metal.
See Drawing in its new home, just inside the entrance next to Monochrome for Austin.